The PhD network of philGRAD
philFAELTIG is a platform on Rocket.Chat for joint learning and working around the dissertation. With this platform, we want to help philGRAD doctoral researchers to structure their work on their dissertation and offer tools to better deal with the 'usual' problems such as phases of lack of concentration. In addition, the platform is to be used for exchange and networking and offer new opportunities to meet like-minded people or to stay in contact – even from home!
Objectives
This forum can be used at different stages of your doctorate, regularly or not, with a focus on working on the dissertation or planning breaks and free time. A special feature of the Faculty of Arts and Humanities is the diversity of its degree programmes and its doctoral sresearchers. At philFAELTIG, this wealth of knowledge and experience can be used across the faculties to support, inspire, motivate and share tips & experiences. Perhaps even the odd cooperation or friendship will develop.
What makes philFAELTIG possible?
Within the main chat of philFAELTIG there are different conversations for working and exchanging. The conversations philWERK I and II offer you different forms of co-working, in the Laberatorium you can exchange ideas on the topic of dissertation and in Ad Hoc you can make spontaneous appointments, e.g. for the canteen or working together in the ULB. There is also philBAY, the exchange platform for doctoral students.
philFAELTIG offers
In philWERK I we work together in the Pomodoro rhythm. A 25-minute pomodoro always begins on the hour and half hour. At the beginning and end of this time you can write start and stop messages and cheer for the new round. During the breaks you can use this room for exchange. If you want to chat further, you can use the 'Laberatorium'. You can see who else is present via the person display in philWERK I on the far right. Come along, say a quick "hello" and get going, because pomodorizing together makes a better tomato salad!
At philWERK II you are invited to participate in online focus sessions. The dates and access data for the upcoming sessions can be found in the chat. Each session lasts 60 minutes and starts with the participants presenting the task they have set themselves for the focus session in a few sentences (for example: 'Revise chapter 3.2'). Then there is a joint warm-up exercise and after that the focus session starts. 50 minutes later the participants meet again and give a short feedback on their progress. If you like the concept, you can also set up focus sessions yourself and announce them in the chat!
You're shuffling from videoconference to videoconference, but nowhere is time for small talk and chat? Then this is the right place for you! The 'Laberatorium' offers you a space for the small and big stories that want to be told: What is on your mind right now? What is your next destination? Has something funny happened to you that the world should know about? You can post all this and much more here and share it with like-minded people.
The AD-HOC! channel helps you to organise spontaneous meetings with other doctoral students! There is nothing going on in the corridor or on campus right now, but you are thirsty for a coffee and need to talk to fellow sufferers? Or do you need a break after the early shift at the ULB or a cool beer after the late shift? Then post your plans, place and time on this channel or reply to other people's posts! Please use the thread function or the reactions to respond to the invitations.
You have unused things, but don't want to throw them away? Then you are in the right place at the exchange portal philBAY. Here you can give away or sell your old books, clothes or furniture left over from your last move. Just post your item in the chat.
Important information in advance
Important: Before you jump directly into one of the co-working or chat and exchange offers, it would be important for us that you first inform yourself about the general topics that are relevant for all who want to join the community philFAELTIG. This includes important information in "Announcements and Officials", a short introduction in "Who is who?" so that you know who is already there and finally of course "Feedback & Support", with relevant hints and tips. Thank you very much!
The usual rules of netiquette apply in the chats. That means be nice to each other, have objective discussions and avoid any spam and unfriendliness. The moderation team reserves the right to delete spam or hostility of any kind and in repeated cases to block the user(s) in question.
Initiators of philFAELTIG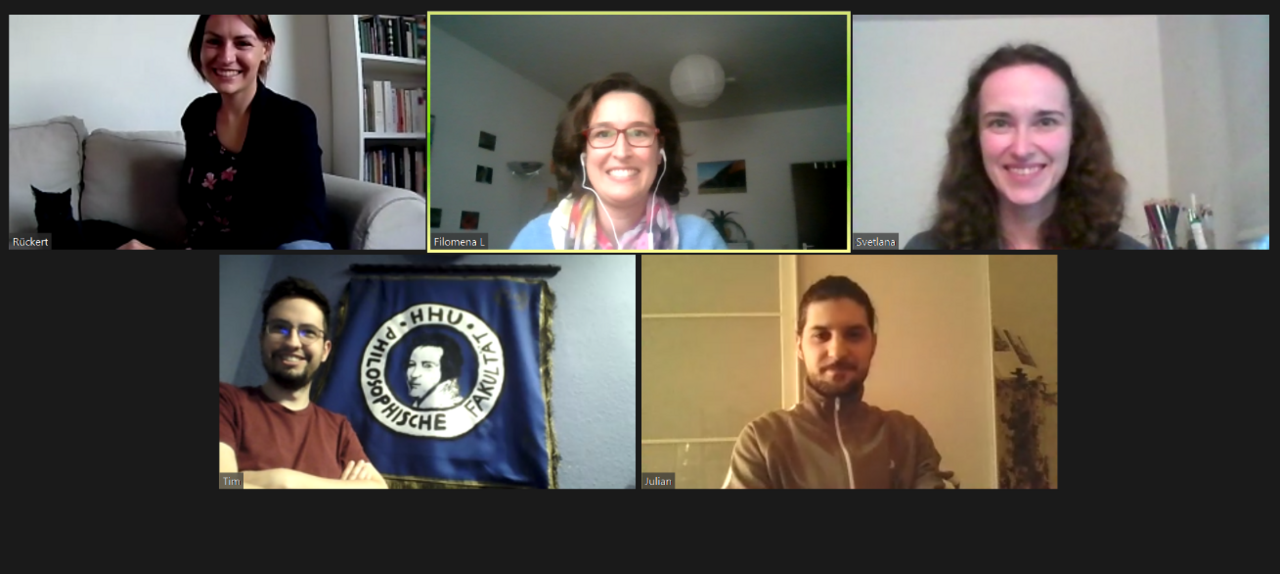 We are Filomena, Jasmin, Julian, Svetlana and Tim and, like you, we are doing our doctorates in a variety of disciplines at the Faculty of Arts and Humanities at Heinrich Heine University Duesseldorf. We are all united by the desire for an uncomplicated and open exchange among the doctoral sresearchers of our faculty and an interdisciplinary sense of unity. We got to know each other during a digital lunch break at our Graduate Academy philGRAD. Here we decided to make a virtue out of the corona-related hardship and found a digital exchange platform: philFAELTIG was born!