The PhD network of philGRAD
philFAELTIG is a network for PhD students and postdocs of all faculties for joint scientific work and beyond. Here, participants can support, inspire and motivate each other and share tips and experiences. In addition, our network offers numerous opportunities for exchange and networking as well as tools to better deal with the 'usual' problems such as lack of time and concentration. Here you can meet like-minded people and stay in touch with them – even from home or while traveling!!
philFAELTIG is available on GatherTown and RocketChat 24/7 for free. You can use it in any promotion phase or for other research work as well as for planning breaks and free time according to your own needs.
A co-working space for all PhD students and postdocs:
https://app.gather.town/app/EkZAQszl5sFyNtPj/philFAELTIG
General functions:
Different workspaces for parallel working
Digital boards/whiteboards in each workspace
Interactive calendar for viewing and entering appointments
Our offers:
The open workspaces are available to everyone (for individual work or group work), similar to the workspaces in the library, the only difference is: here you can also be loud! :-)
The PhD network philFAELTIG offers joint digital co-working in the Pomodoro rhythm around the clock! The Pomodoro technique is a time management method in which intensive work phases alternate with relaxing breaks. This way you can work in a more structured and concentrated way. A so-called "Pomodoro" of 25 minutes always begins on the full and half hour. During this time, all participants work on their project. In the break afterwards, there is time for exchange, mutual motivation and celebration of what has been achieved. The time spent together increases the motivation of all participants and the regular work phases and breaks promote individual concentration and ability to work. For Pomodoro Co-Working, either the open work spaces can be used or it can be individually combined with other offers.
For those who want to work intensively but find the Pomodoro rhythm too short, there are online focus sessions. Each session lasts 60 minutes and begins with the participants presenting the task they have set themselves for the focus session in a few sentences (for example: "Revise chapter 3.2"). Then, as a warm-up exercise, they dance together to music (an interactive playlist is available for this) and then the focus session starts. At the end of each session, the integrated timer rings and the participants meet again to give a short feedback on their progress. You can find the dates of individual sessions in the GatherTown calendar or schedule your own focus sessions.
So that you don't have to work alone, philWERK III invites you to take part in video co-working sessions - the rule is: Sound off! Video on! You will be connected with others via video and can work together. You can find the dates for individual sessions in the interactive calendar or schedule your own video co-working sessions.
If you work hard, you also have to take breaks! In GatherTown you have the opportunity to meet other PhD students and postdocs between 12:00 and 13:00 every day, exchange ideas, play interactive games or just chat. Just drop by with a coffee or tea, we look forward to seeing you!
By the way, our PhD regulars' table also takes place in the same digital cafeteria - keep an eye on the dates in the interactive calendar to make sure you don't miss it!
A platform for doctoral students and postdocs of the Heine Research Academies (HeRA) at HHU for networking, organisation and mutual exchange.
If you are a doctoral student or postdoc at HHU and would like to join, becoming a philFAELTIG member is free and easy! Contact us directly via Rocket.Chat or send an e-mail with the subject "Registration with philFAELTIG", your university ID and a valid certificate of study to philfaeltig@hhu.de and we will do the rest! As a postdoc, send us the link to the institute's website with your profile instead of the certificate of study.
Our channels:
In this channel you will find important announcements and official information. If basic things change or important dates are coming up, for example, you will be informed here!
New here? Then introduce yourself briefly! Write a few lines about yourself: Who are you? At which institute are you doing your doctorate or working? What is the topic of your research? Finally, tell us something about yourself: What are your hobbies, your favourite music or your (hidden) talent? Don't be shy, we are all very philFAELTIG! Here is a small template to get you started: institute, subject area, research focus and a few words about yourself!
Here you can find questions and answers about the promotion. Post your own question or answer existing ones.
Here you can find questions and answers about teaching. Post your own question or answer existing ones.
You shimmy from video conference to video conference, but nowhere is there time for small talk and chit-chat? Then you've come to the right place! The "Laberatorium" offers you a space for the small and big stories that want to be told: What's on your mind right now? What is your next travel destination? Has something funny happened to you that the world should know about? You can post all this and much more here and share it with like-minded people.
The AD-HOC! channel helps you organise spontaneous meetings with other doctoral researchers and postdocs, both in person and online. You can also post information about interesting events here. There's nothing going on in the corridor or on campus right now, but you're thirsty for a coffee and need to talk to fellow sufferers? Or do you need a canteen break after your early shift at the ULB or a cold beer after your late shift? Then post your plans, location and time in this channel or reply to the posts of others!
You have unused things but don't want to throw them away? Then the philBAY exchange portal is the right place for you. Here you can give away or sell your old books, clothes or furniture left over from the last move. Just post your item in the chat. A small template to get you started: a short, meaningful description of the item, a photo, a reference to give away or sell and the pick-up location.
Here you can pass on questions, technical problems, suggestions or simply praise to the philFAELTIG team: Your opportunity to get actively involved in the network!
Initiators of philFAELTIG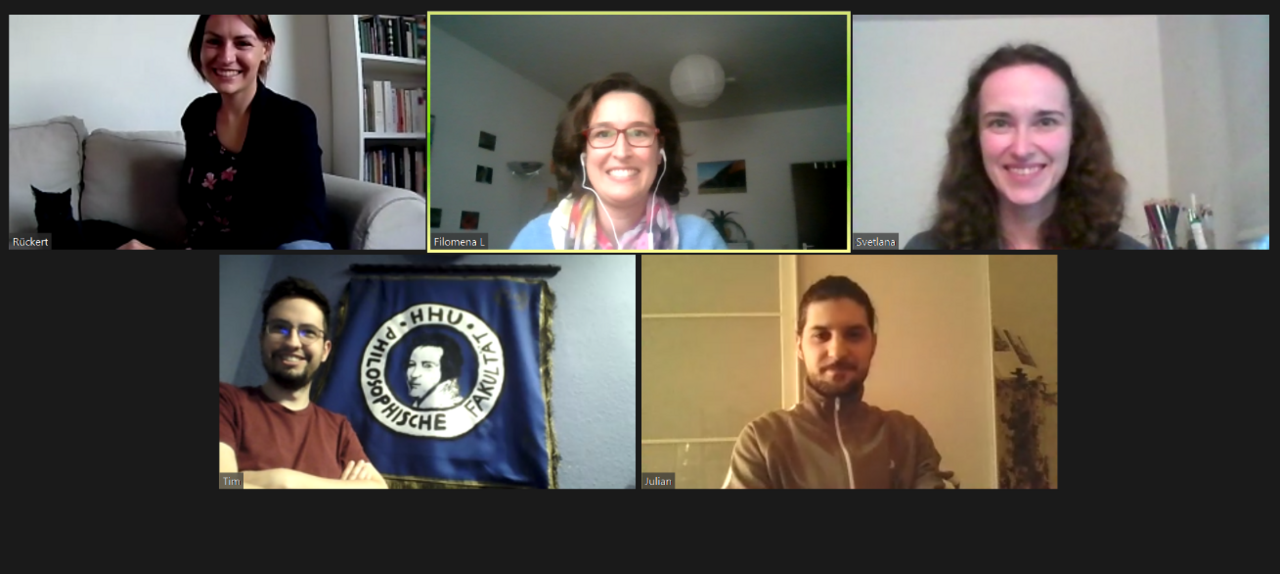 We PhD students, Filomena, Jasmin, Julian, Svetlana and Tim, from different disciplines of the Faculty of Arts and Humanities at the Heine University Düsseldorf had the desire for an uncomplicated and open exchange among like-minded people as well as for an interdisciplinary "we" feeling. We got to know each other during a digital lunch break of our Graduate Academy. Here we decided to make a virtue out of the Corona-related need and to found a digital exchange platform for everyone: philFAELTIG was born!
Be a part of us and join our network!
We are looking forward to you!